Eating Disorder Dietitian
Post Date:

1st April 2021

Apply Before:

1st May 2021

Views

728
0

Applications
Job Description
All about Orri 
Our vision
To offer a new choice to people aged 16+ living with an eating disorder in the UK, which enables meaningful treatment, positive outcomes and a sustainable recovery.
Our purpose
We exist to provide specialist intensive day treatment for people with eating disorders and to collaborate with experts by experience and partners to enhance accessible and quality treatment throughout the UK, so that individuals, families and communities can thrive. 
Our values: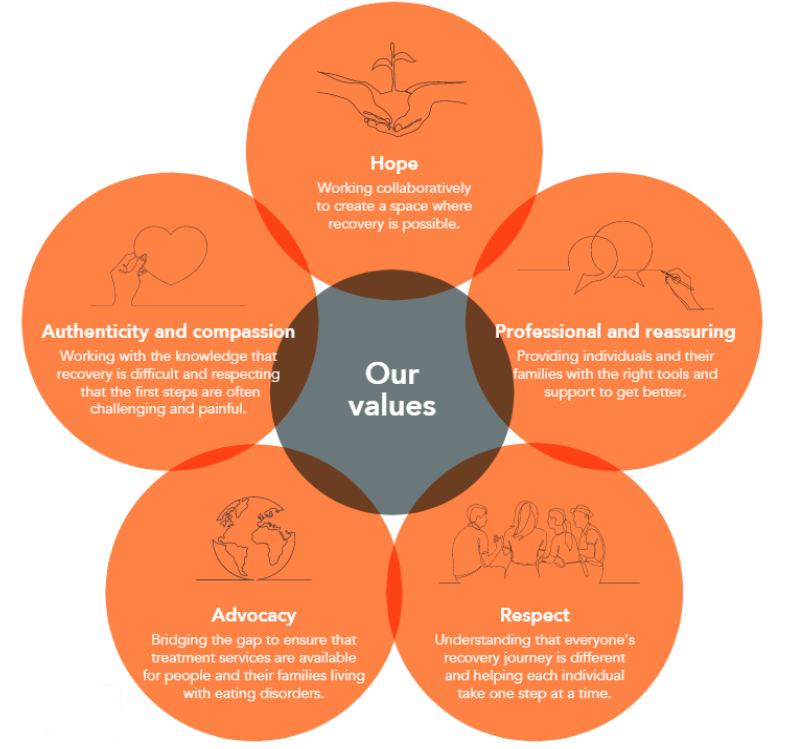 Our strategy
The prevalence of people with a serious eating disorder requiring specialist treatment is increasing in the UK and beyond. Founded in July 2018, Orri provides an intensive day treatment programme for people aged 16+ with eating disorders, providing both a cost-effective alternative to long-stay hospitalisation as well as the opportunity for earlier intervention. Evidence strongly demonstrates that earlier intervention achieves better patient outcomes. Orri offers both online and in person treatment programmes, and our ambition is to grow new Orri centres across the UK, making intensive day treatment a new choice for those suffering with an eating disorder, their families and loved ones, and for those who commission/fund services on their behalf. 
Job title: Eating Disorder Specialist Dietitian
Closing Date: Open
Vacancy enquiries to: Kerrie Jones, CEO – kerrie@orri-uk.com
Salary: Band 6 / 7 role £35,000 – £45,000, depending on experience / Band
Hours: Up to 40 hours
Base: Orri, 14 Hallam Street, London. W1W 6JG
Contract type: Permanent
Annual leave: The basic annual leave entitlement in a full year is 33 days inclusive of bank holidays. Leave entitlement is pro rata where applicable.
Orri operates a smoke free policy on all premises and grounds.
Orri is an equal opportunities employer.
Job Purpose
The dietetic role at Orri is an active and important role in the team. Dietitians work alongside the clinical team providing a mixture of individual sessions and groups, and work to build strong therapeutic relationships with the clients. The approach is one of collaboration, support and challenge. We work with clients to support them in growing their confidence in their relationship with food as they move through their recovery.
Our team of dietitians work as part of the wider multi-disciplinary team, and the post holder will work closely with other disciplines in the support and approach to the clients treatment plan. Each dietitian will have responsibility for the assessment of client dietary needs, as well as the development and evaluation of menu programmes and any other required nutritional intervention. S/he will be expected to carry out all relevant forms of care in partnership with the client, carers where appropriate and other professionals in line with agreed standards, clinical polices and without direct supervision.
Dietetics assessments are utilised within the team to identify the person's nutritional needs, and to provide a baseline on which levels of support are offered to ensure we are able to provide a level of independence in a variety of living environments. Assessment is ongoing throughout treatment and regularly updated and responded to as the client's needs evolve and change. The Dietitians works closely with the Specialist Lead Dietitian to ensure appropriate nutritional advice is offered to the clients. He/she attends supervision, training and provides mentoring of more junior or student dietitians and Eating Disorder Associates.
The post-holder will be expected to interface between the GP, CMHTs, SEDUs, Inpatient services and other Mental Health Network services and agencies.
The post holder will be expected to have significant knowledge and experience of working with people who have been diagnosed with an eating disorder, and competent to support their physiological and psychological needs as they arise.
SCOPE AND RANGE OF THE POST
The post holder will be expected to practice within a legal & ethical framework as defined by:
National mental health related legislation – Mental Health Act & Mental Capacity Act
Orri policy, guidelines and protocols
Professional Dietetic standards
The post holder will be managerially and professionally responsible to the Lead Specialist Dietitian.
The post holder will be expected to manage a specialised caseload of service users with complex needs, using evidence based/client centred principles to assess, plan, implement and evaluate interventions.
Orri will provide the post-holder with supervision and line management, as well as access to continuous professional development and mandatory training.
The post holder will offer individual and group-based sessions, and provide ongoing support to clients and their families / loved ones. There are opportunities to co-present webinar trainings, carers support sessions and Instagram Live sessions run for the wider ED community.
The post holder will be expected to work collaboratively with the Specialist Lead Dietitian to ensure effective utilisation of resources.
MAIN DUTIES AND RESPONSIBILITIES
The post-holder will be responsible for: –
Managerial
The management of their own workload. Identifying and responding to the health needs of clients under his/her care.
Establish and participate in systems of practice support and caseload supervision for junior staff.
Liaison with the clients GP/external team as relevant to support the client's physiological symptoms as well as psychosocial supports.
Provide written reports for the service as required.
Be involved in the ongoing evaluation and review of service
Be familiar with and ensure implementation of all local, regional and national policies, procedures and guidelines pertinent to all staff within area of responsibility and comply with the contents in the pursuit of the highest standards of care.
 Clinical:
Work with the Specialist Lead Dietitian to ensure Orri provides a safe, effective and caring service that is responsive to people's needs and is well led
Assessment, planning, intervention and evaluation of care ensuring referrals are recorded and actioned within timescales set out in the Service Manual.
To apply specialised knowledge and expertise in the specialist field of eating disorders regarding the effect of illness/disability upon the occupational needs of the individual.
To independently plan and implement client centred individual and/or group interventions, using specialist skills to assess, grade, modify, review and evaluate clinical interventions to achieve dietetic goals
To support the intake process, providing assessment for clients to ensure Orri can provide appropriate and meaningful support
Initiating and developing new ideas to improve client care and service delivery
Have a sound knowledge of mental health legislation and act as an advocate and information resource for individuals and carers
Responsible for ongoing audit of client/carer satisfaction with the service.
Responsible for continuous improvement in an individual's care, utilising research evidence. He/She must access, review and critically appraise current research to ensure therapeutic interventions have a sound evidence base
Be conversant with and operate within current health and Safety at Work
Legislation, and comply with Orri policy.
Ensure that personal practice and practice of staff for which they have responsibility is in line with the principles underpinning the Mental Health
Act 2007 and Mental Capacity Act 2005 and appropriate practice guidelines
Supporting the effective management of practice and environmental risk on a day to day basis 
Professional:
To comply with the British Dietetic Association standards of practice and
Health Professions Council Standards of Conduct, Performance and Ethics.
Report professionally to the Specialist Lead Dietitian
To demonstrate on going personal development through participation in internal and external development opportunities
To contribute to the multidisciplinary team's clinical governance arrangements and quality agenda including the mentoring of professional standards
To provide effective guidelines review and reflect on own practice and performance through the effective use of professional and operational supervision and appraisal ensuring development and change
Maintain strong professional links with local and national Dietetic networks e.g. The Dieticians Mental Health Group / The BDA, etc. to ensure up to date knowledge and skills
To participate in the staff Personal Development Review process
Have a legal right to work in the UK 
Education and Research:
To participate in the delivery of the learning and development plan
Open to participation in research and development studies at Orri 
Organisational:
To contribute to the team's clinical governance arrangements and quality agenda
To contribute to the operational planning, and implementation of policy and service development within the Dietetics, leading on projects as appropriate
Contributing on the planning, evaluation and audit of practice, clinical pathways and protocols within the dietetic area, leading on delegated projects
To influence organisational culture from the perspective of an experienced clinician 
EQUIPMENT & MACHINERY
The equipment used by the post holder on a daily basis will include;
Computer and associated software most notably Microsoft Office applications, Microsoft Teams, KIPU
Mobile phone and landline phones
Various items of clinical equipment required to carry out specific interventions and procedures e.g. for nutritional assessment, support and monitoring
The equipment used by the post holder may also include
CPR equipment
Audio and video recording equipment 
SYSTEMS
The post holder will develop and ensure utilisation of systems for efficient operation of the service:

Care planning and record keeping systems
Paper based and electronic documentation audit systems
Nutritional analysis packages (Compeat or equivalent)
Systems for the collection, recording and audit of service users/carers views
EMR system
Email
Local database

The post holder will have sound knowledge and skills in the use of a wide range of systems including:
Risk assessment tools and clinical/assessment rating scales
Appraisal and personal development planning
Fire and emergency procedures
Infection control systems
Health and safety policy
Information technology systems
The post holder will have skills in the use of internet to access literature for research purposes
DECISIONS AND JUDGEMENTS
The post-holder is expected to make independent clinical/practice decisions and judgements on a day-to-day basis working without direct supervision, as well as support and supervise the clinical/practice provided by other team members.
To comply  with the British Dietetic Association standards of practice, Health Professions Council Standards of Conduct, Performance and Ethics, and national/local policies and procedures.
The post-holder will be expected to make decisions and judgements, taking into account the role and competency of other team members when assigning workload.
The post-holder is expected to prioritise care needs and where necessary altering priorities to ensure clinical/practice needs are met.
The post-holder must be able to recognise and respond to emergency situations, assess and minimise risk.
When formulating care plans, the post holder is expected to make decisions regarding suitability for the Intensive Day Programme, informed by discussion with relevant team members.
The post-holder will have highly developed analytical skills based on broad knowledge underpinned by theory and experience in mental health and eating disorders.
The post-holder will identify appropriate interventions and respond to any changes in the Clients condition, altering the care plan accordingly.
The post-holder is expected to make judgements about the clients ability to make informed choices regarding their care plan.
COMMUNICATIONS AND RELATIONSHIPS
The post holder will require excellent verbal and written communication
The post holder will communicate with service users/carers and other health/social care professions and voluntary care providers.
The role will involve an educational dimension with users/carers and colleagues
The post holder may be required to present to groups on occasion
The post holder will be required to communicate information regarding, the nature of the eating disorder, impact on daily living and living with an eating disorder to the service users, cares and colleagues. This level of communication may be required on a daily basis.
The post holder will be required to communicate sensitive information on a frequent basis and manage potential interpersonal conflict.
The post holder will be expected to attend a variety of meetings to support effective communications.
To receive and communicate complex and sensitive information in a form understandable to young people and adults with an eating disorder and their carers
MDT professionals – to take an active role using interpersonal skills in  establishing and maintaining relationships through day-to-day teambuilding, promoting staff morale.
Building a therapeutic relationship with someone who is difficult to engage and is unwell
The post holder will be expected to defuse potentially highly charged situations e.g. where clients or carers may express heightened level of emotion. 
PHYSICAL, MENTAL, EMOTIONAL, ENVIRONMENTAL DEMANDS 
Physical Skills
Keyboard
De-escalation of aggression
Manual Handling
Transporting/using equipment. 
Physical Effort
Combination of walking, sitting, standing, stair climbing 
Mental Effort
Accurately reading and interpreting clinical documents whilst working
under pressure.
Working on own initiative in the field with a significant degree of autonomy
in terms of clinical/practice decision-making.
Effectively managing time in the face of competing priorities. 
Emotional Demands
Communicating with distressed/anxious service users/carers
Discuss sensitive issues such as sexual abuse, relationship problems, family
conflict etc. and facilitating helpful useful supports.
Managing acute psychiatric crisis
Supporting colleagues, users/carers post incident 
Environmental factors
Potential for exposure of body fluids
Exposure to verbal and physical aggression 
MOST CHALLENGING/DIFFICULT PARTS OF THE JOB
Effectively assessing and managing clinical risks related to suicide, selfharm and harm to others.
Effectively assessing physiological processes in respect of eating disorders.
Effectively establishing a therapeutic relationship with clients within a short timescale and engaging them in therapeutic interventions when their ability to engage in treatment is diminished due to the severity of illness, lack of insight, co-morbid drug and/or alcohol misuse.
Effectively balancing the demands of role with effective delivery of high quality care. 
KNOWLEDGE, TRAINING AND EXPERIENCE REQUIRED
Completion of Diploma/Degree in Dietetics and significant post graduate
Holding a current valid registration with the Health Professions
Member of British Dietetic Association
Ideally minimum of 4 years post qualification experience
Previous post registration experience of working with clients who have had an eating disorder.
Experience of group interventions.
Evidence of continued professional development
Highly developed communication and negotiation skills
Ability to work without direct supervision
Food hygiene certificate level 2 or 3 (preferable, however this training can be provided)